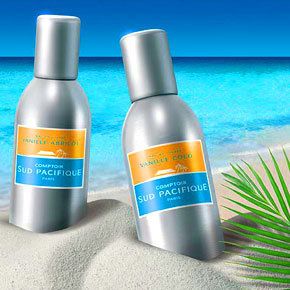 What a remarkable brand.If you haven't heard of them,or tried their fragrances,you must go to Sephora..NOW!
They have become well known for their cult favorite perfume: Vanille Abricot.
I've heard all the hype,but didn't think the perfume could live up to it.
Let me tell you-Its far surpassed my expectations.
Its the most heavenly,dreamy,creamy fragrance I have ever tried.
Im a notorious Vanilla addict (foody vanilla,that is) and I've search long and hard to find that "signature" perfume..This is it! I could literally bathe in this stuff.
It flies off of the shelves.My only gripe is that its lasting power isn't the best,and it comes with a hefty (suggested retail) price tag..still,every penny is worth it for the luxurious,sweet & tart-creamy-candy-vanilla perfume!
Vanille Abricot Introduced in 1992 in response to the overwhelming success of Vanille and Fruits Sauvages, Vanille Abricot offers the perfect balance between fruit and spice. Imagine deep Tahitian vanilla spice enhanced by soft and sensual apricot.

Notes:Apricot, Jackfruit, Papaya, Tahitian Vanilla, Sugar Candy.
Style:Soft. Sensual. Feminine.
While im at it,I'll let you in on a little secret.
(I wanted to keep this to myself so I could buy every tube known to man! hehe)
T.J Maxx currently carries CSP's New body care line ; Vanille abricot Transporting Shower Gel & Exotically Rich Body Butter..for $5.99!!
I drove to 6 TJ maxx's trying to find more..can you tell im obsessed!?
Stock fluctuates,especially since this goes so fast.If you find it,stock up!
Also-you can get the 3.3 oz Size perfume for $25-30..
only difference is,its a tester w/o a cap.
If thats not a steal..I don't know what is.
So go grab some,don't miss the boat..your sweet tooth will thank me!