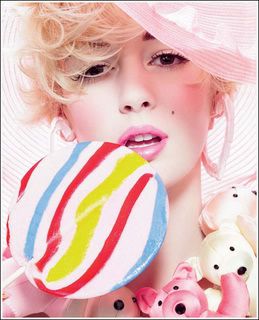 The point between love and lust is this succulent, tender, and eat-me as all bon-bon-tinted lip balm. Six new, four popular bring-backs. All of them sheer, satiny, sun-protective and moisturizing. Some richly tinted to provide summer's deepest sexiest stain. Others deliciously and lightly cotton candy.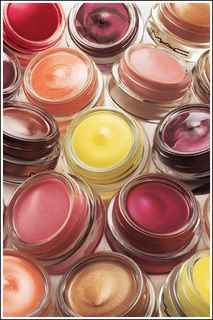 Tendertones Lip Balm SPF12 ($14.50)
Tread Gently: Soft lime green with yellow pearl
E-Z Baby: Sheer milky pink
Honey Bare: Rosy blue pink with white and gold pearl
Hot n' Saucy: Soft cherry red
Sweet & Nice: Sheer red grape with red
Take A Hint: Sheer peach with white pearl
Hush, Hush: Sheer gold with yellow gold pearl
Sweet Tooth: Sheer coral with white pearl
Pucker: Sheer berry with red pearl
Deep Sigh: Sheer grape brown with red pearl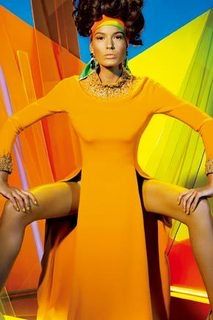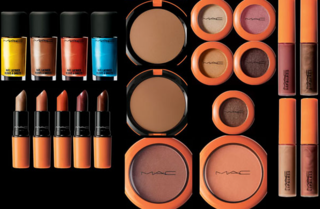 Out to shock the fashion galaxy with their supersonic ray gun shades and neon orange compacts cases. Spinning glamour into another orbit: a magnetic field of alluring hot fluorescents, modern buffs, beiges flesh tones set against cyber-chromatic array Nail Lacquers destined test laws your style gravity. This is your beauty's future.
Lipstick
Sci-Fi-Delity: Burnt red with gold pearl (frost)
Pleasureseeker: Creamy peach (glaze)
Astral: Midtone brown with red pearl (lustre)
Electro: Bright orange (lustre)
Sunsonic: White gold (frost)
Lipglass
Supreme-Bronzed brown with white pearl (frost)
Naked Space-Creamy midtone nude peach (frost)
Pink Grapefruit- Orange with gold pearl (frost
)
Soft & Slow Midtone creamy plum (frost)
Eye Shadow
Magnetic Fields: Black brown with silver pearl (veluxe pearl)
Femme-Fi: Frosty golden cream (veluxe pearl)
Evening Aura: Frosty golden pach (veluxe pearl)
Time & Space: Frosty copper (frost)
Expensive Pink: Pink with gold duochrome (veluxe pearl)
Cremestick Liner
Plush Lash Mascara

Sheertone Shimmer Blush
Spaced Out: Shimmery peach
X-Rocks: Shimmery dirty mauve
Nail Lacquer
Metalist: Neutral coppertone with white pearl (frost)
Plasma Blu: Turquoise blue with mathematic white pearl (frost)
Neon 8: Bright orange with matching pearl (frost)
Phosphor: Bumble bee yellow (frost)