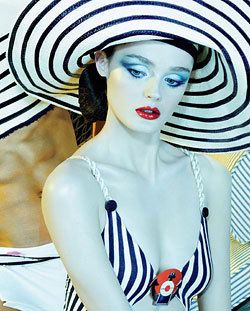 The name of this collection makes me blush. :-]
These colors are soo fabulous for summer!
Perfect for hitting the beach & making everyone do a double take!
Gotta love the pigments..they are the best!
Buoy-o-Buoy (lustre) - Creamy neutral pink-brown
Port Red (frost) - Clean yellow-red with gold pearl
Party Mate (lustre) - Sheer mid-tone pink
Ahoy, there! (glaze)- Sheer, light dirty pink with multi-dimensional pearl
Lustreglass ($14)
Hey Sailor (lustre) - Blue plum-pink with flecks of white pearl
Love Knot (lustre) - Sheer pink with blue & white duo chrome
Bateaux (lustre) - Neutral brown-peach with white frost
Ensign (lustre) - Peachy pink with white and gold pearl
Eye shadow ($14)
Shore Leave (veluxe pearl) - Pale frosty cream
Illegal Cargo (frost) - Mid-tone frosty grayed plum
Meet the Fleet (matte) - Matte midnight blue
Pandamonium (lustre) - Frosty gunmental with white pearl
Submarine (frost) - Mid-tone frosty clear blue
Pigment ($19.50)
Lark About (frost) - Sheer frosty white-blue
Mutiny (frost) - Clean sky blue with gold pearl
Bell-Bottom Blue (frost) - Frosty blue with white pearl
Lovely Lily (frost) - Dirty lilac with red pearl
Technakohl ($13.50)
Smoothblue - Ocean blue with frost
Greyprint - Rich pewter grey with frost
Prolash ($11)
Coal Black - True Black
Nail Lacquer ($10)
Naughty Nauticals (frost) - Dark royal blue
Shirelle (cream) - She's a dame red
Dazzleglass
16 shades of GORGEOUS new diamond-shine lipglosses.
Shine w/the large pearl particles in the gloss~
ANother bonus:It smells like vanilla cake! Yummy! I'll take all of them,please :)
Comet blue - Violet blue
Funtabulous - Purple with violet pearl
Ms. Fizz - Bright pink with blue pearl
Like Venus - Clean light bubble gum pink with red pearl
Baby Sparks - Pale pink with violet pearl
Money, Honey - Mid-tone rosy mauve with red pearl
Rags to Riches - Plummy pink with real and red pearl
Date Night - Deep plum with blue and gold pearl
Spanking Rich - Raspberry pink with red and gold pearl
Get Rich Quick - Warm yellow brown
Bare Necessity - Caramel apricot with red and gold pearl
Steppin' Out - Clean yellow pink with red pearl
Glamour O.D. - Bright coral red with red pearl
Sugarrimmed - Milky pale pink with red, teal and white pearl
Pleasure Principle - Clear white violet, teal and white pearl
Love Alert - Raspberry red with red pearl
Skinsheen
Legs... Bronzed to distraction. Seductive and cruise-worthy. A sprayable, lightweight gel that unlike your fancy, never drifts. Brushes lightly and flawlessly over the skin... undetectable. For the ultimate secret application and smoothest sheen, try the 179 Body Buffer Brush. Skinsheen leg spray applies like a soft mousse to provide a quick, highly blendable application of colour to legs, arms, shoulders and decolletage.
Skinsheen Leg Spray ($22.50)
Medium- Sheer soft golden caramel with soft gold nuances
Medium Dark- Sheer soft bronze with golden tan pearl
Dark- Golden Bronze-
Deep Dark- Deep warm bronze with rich golden pearl
Brush ($52)-179 Body Buffer